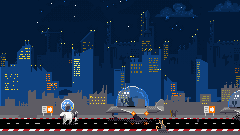 Fleet commander is a tool to manage and deploy desktop profiles across large networks under FreeIPA or Active Directory.
---
Getting Fleet Commander
Fleet Commander requires a FreeIPA or Active Directory service to work with and to store the desktop profiles.
Fleet Commander consists of three components:
The Fleet Commander Admin, a cockpit plugin and a service that manages all the desktop profiles in FreeIPA or Active Directory servers.
The Fleet Commander Logger. Installed on your template VMs to set up the profiles realtime from Fleet Commander Admin Live Session.
The Fleet Commander Client, a client side service that runs on every host of the network and that applies the desktop profiles when the user logs in.
Fleet Commander uses libvirt and KVM to run a virtual desktop session that allows the user to live edit the configuration of the applications on a template system that resembles the client setup.
Detailed installation instructions
Get Involved
Fleet Commander is Free Software and is developed in the open. To get in touch, use the #fleet-commander IRC channel on libera.chat
Code can be found on Github and issues are tracked on Github Issues.
Current documentation is at GNOME wiki.